MANO MEDIA SERVICES
Companies: Casting agencies: MANO MEDIA SERVICES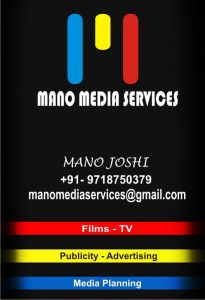 Activity
Casting agency
State
Delhi
Year of launch
2011
E-mail
Скрыто от гостей.
Office address
Karol Bagh, Delhi
Phone
9718750379
Website
www.manomedia.com



MANO MEDIA SERVICES is a company which provide solutions in making films, TV serials, documentaries, advertisements, portfolio creation, media planning and complete branding, print ads, product launches and promotions, media, product catalogues, public relations, Artist & Model management..
Discussion / Reviews
To work with this section you need sign up or login on website.
.