KJ Motion Pictures (Season 3) | Singing Competition | Singing Auditions | 2019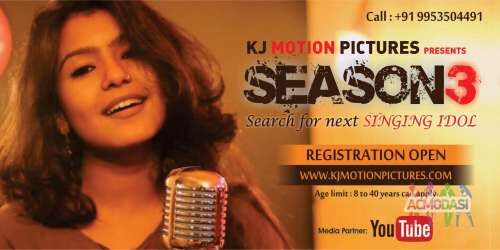 Ads type
Audition, ID: 8159
Casting dates
to 30 November 2019
Wanted
8-40 years old, M/F
Status
Expired
Ended
Open
Open Audition
The Audition is over. No applications accepted.
Project description
We are back with Season-3 as a new concept of (Singing Competition / Singing Auditions) like Indian Idol, Rising Star, Sa re ga ma pa and The Voice India. All the previous seasons were loved and appreciated by the viewers of the whole world. As you already know this show is totally a digital concept and all the performances, and the music videos are aired on our official YouTube channel. We are currently not airing any episodes on TV channels. This is an international platform to show your talent and we are getting registrations globally. Contestants do not need to have any special certificate or qualification to participate in our show.
In Season 3, KJ Motion Pictures will be conducted in two categories i.e. junior and senior. The age group of the junior category will be 8-14 years while for the senior category the age limit will be 15-40 years. The whole show episodes will be recorded by the professional cinematographers and will be updated to our official YouTube channel. Once we publish these videos we will share all these to the other social media platforms to get more exposure to our contestants.
Visit us :
www.kjmotionpictures.com
Call : + [see in contacts]
Payment terms
Registration will be completed after paying Registration fee which is INR 1000.00 (Non-Refundable)
The Audition is over. No applications accepted.
Other current auditions


© ACMODASI, 2010- 2023
All rights reserved.
The materials (trademarks, videos, images and text) contained on this site are the property of their respective owners. It is forbidden to use any materials from this site without prior agreement with their owner.
When copying text and graphic materials (videos, images, text, screenshots of pages) from this site, an active link to the site www.acmodasi.in must necessarily accompany such material.
We are not responsible for any information posted on this site by third parties.