PROJECT " HOW TO START IN FILM &TV INDUSTRIES "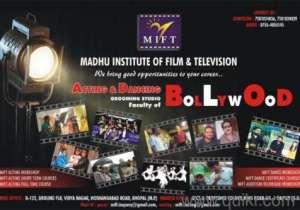 Ads type
Audition, ID: 533
Casting dates
to 02 July 2015
Country, city

India,
Bhopal
Wanted
1-90 years old, M/F
Status
Expired
Ended
Open
Open Audition
The Audition is over. No applications accepted.
Project description
HI, GUY'S

WELCOME IN MADHU INSTITUTE OF FILM & TELEVISION ( MIFT )

MIFT ( MADHU INSTITUTE OF FILM & TELEVISION ) IN WHICH WE OFFER ACTING & DANCING WORKSHOP OR CERTIFICATE COURSES .A ACTING SCHOOL WITH LOCATION OF THE MOST DYNAMIC CENTERS OF THEATRE AND FILM IN THE CENTRAL INDIA. THE ACTING & DANCING PROGRAM OFFERS STUDENTS OF ALL AGES, EXPERIENCE AND ABILITIES A CHANCE TO WORK WITH PROFESSIONAL THEATRE AND TV / FILM INDUSTRIES. THIS COURSES IS UNIQUE KNOWLEDGE AND PRACTICE BASED, WHICH IS VERY IMPORTANT FOR YOUR ACTING & DANCING CAREER. WE TEACH YOU UNIQUE EXERCISE THAT YOU IMPROVE YOURSELF AS A PERFECT ACTOR AND DANCER. BESIDES THIS YOU LEARN THE TECHNICAL PART OF FILM AND TELEVISION. YOU LEARN HOW TO APPORACH AND BEHAVE WITH FILM AND TV INDUSTRY & LEARN " HOW TO START IN FILM &TV INDUSTRIES "

WE PROVIDED :

MIFT ACTING SHORT TERM COURSES ( 40 DAY'S )
MIFT ACTING FULL TIME COURSES ( 3 MONTHS )
MIFT ACTING WEEKEND CLASSES ( ONLY SUNDAY - SUNDAY )
MIFT DACNE REGULAR COURSES ( MON TO FRIDAY)
MIFT DANCE 1 YEAR CERTIFICATE PROGRAM

SUMMER SPECIAL CLASSES ....
1) DANCE WORKSHOP
2 ) ACTING 1 MONTH PROGRAM
3) FIGHT WORKSHOP
4 ) PRODUCTION KNOWLEDGE ....

OTHER SERVICES
1 ) ACTOR - PR & MARKETING SERVICES
2 ) ACTOR PORTFOLIO
3 ) ACTOR - VIDEO PROFILE ....
The Audition is over. No applications accepted.
Other current auditions


© ACMODASI, 2010- 2023
All rights reserved.
The materials (trademarks, videos, images and text) contained on this site are the property of their respective owners. It is forbidden to use any materials from this site without prior agreement with their owner.
When copying text and graphic materials (videos, images, text, screenshots of pages) from this site, an active link to the site www.acmodasi.in must necessarily accompany such material.
We are not responsible for any information posted on this site by third parties.